Valves & Compression Tube Fittings

'MASS' tube fittings were developed in response to industry demand for an alternative ultra high quality double ferrule instrumentation grade fitting. All 'MASS1 tube fittings are engineered and manufactured to withstand the severest service conditions while providing the ultimate in sealing capabilities and reliability in varied system services from cryogenic to steam, Vacuum to tubing yield pressures. 'MASS' make single and double compression tube fittings provides leak proof joints at all tubing connection, this eliminates leakage. 'MASS' Needle valve is made from single piece forged body or bar stock construction. 'MASS' instrument Ball valves is very compact and low torque design.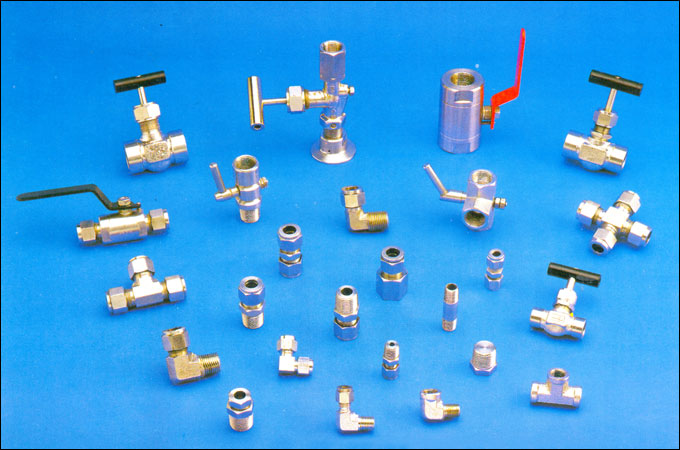 Our Capabilities :
The 'MASS' group is a world leading manufacturer of high performance ball and needle valve with an unrivalled reputation for innovation, product development, quality and service. With a rapidly expanding manufacturing facility at Chhatral near Ahmedabad (Gujarat) and a comprehensive network of marketing and distribution outlets across the globe. The company is able to offer outstanding support to our customers worldwide
TOTALLY "INTERCHANGEBLE" WITH SWAGELOK
Construction and Operation :
'MASS' tube fittings are composed of four precision-machined parts: 1) Body, 2) Front ferrule, 3) Back ferrule, 4) Nut. A leak-tight seal is achieved through the simple action of tightening the nut against the nut body. The geometric rotation of the nut provides the axial thrust required to compress the captivity-held ferrules against the outside diameter (O.D.) of the tubing. The staged swaging action of the ferrules during the compression phase of make-up provides the key to sealing superiority.

The front ferrule as it is urged forward against the tapered area of the body is forced inward, thus gripping and subsequently sealing the leading edge tightly on to the tubing. Simultaneously the back ferrule, dove tailing directly behind the front ferrule, swages beneath its trailing edge affording the desired coining action the mechanical connection of tubing and fitting. It is this interaction offer rules that allows to achieve its excellent sealing capabilities under a wide variety of application variables.
ADVANTAGES
For 'MASS' Single And Double Compression Tube Fitting
All fittings shaped out of high quality forging.
Double ferrule swaging action.
Self-alignment.
No transfer of torque to tubing.
Compensating seal action to accommodate temperature and pressure variations.
Universal tubing compatibility.
Low torque, high purity "Silver" thread coating on nut.
Minimum flow restriction.
Will not weak on tube wall.
Fittings are tested for high pressure Hydraulic, Pneumatic, Impulse, Vibration and Temperature to ensure safety and leakproof joints.
Size range:-1/16"to2"and 3mm to 50mm.
Material of construction Stainless Steel of all grades and all special materials.
For 'MASS' Needle Valves
Single piece forged body or bar stock construction. Union bonnet or screwed bonnet connection
Metal to metal or stellited seat for high pressure, Teflon seat for low density gases and non lubricating fluids.
Hard plated or stellited tip, non-rotating tip steam.
Teflon seatorGrafoil packing for bubblefreejointat various temperature.
Variety of end connection includes 1/8" to 1"OD single and doubleferrule fittings, 1/8" to 1" Male, Female, NPT,SP,JIS, ISO and din pipe ends.
Optional bleed plug provided for drainage of residual fluid.
Pressure range: 3000-10000PSI at 120 500 degree centigrade
Din valve for European standard
For 'MASS' Ball Valves
'MASS' ball valves are very compact, low torque design with panel mounting facility
Two way ON-OFF service, Three and four way for switching of the stream & Five way for selection of the stream
All valves are made in SS and Brass in sizes 1/4",3/8" and 1/2" NPT, BSP, SW and BW male and female
VALVE MANIFOLDS AND OTHER ACCESSORIES ON REQUEST.