Electrical Contact Pressure Gauges

MASS Make Single/Double Snap action Magnetic Eletrical Contact Gauges are available in 100mm & 150mm dial size. These gauges serve for the measurment and control of pressure by switching 'on and off electrical equipments. Thus eliminates the need of separate switches for equipments such as pumps, motors, turbines, blowers for audio/visual alarms for signalling irregularities. These Contacts may be used under almost all operating conditions, they are largely immune to vibration. The contact pin carrier of the indicator is equipped with an adiustable magnet which attracts the contact arm just prior to reaching the indicator. This prevents arcing and burning of contact pins.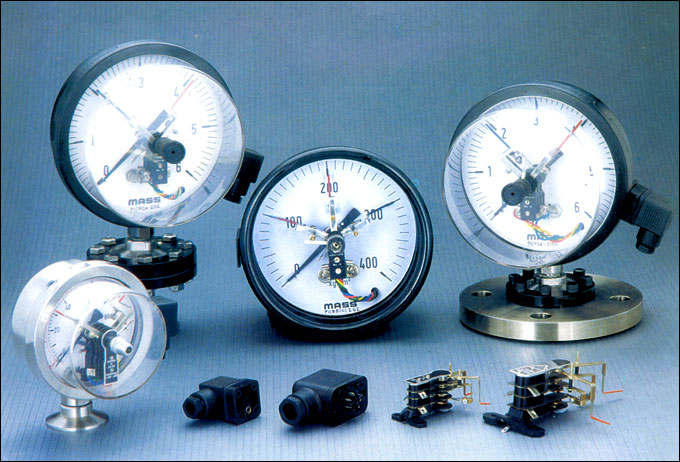 Electrical Contact can be used up to 380 volts AC/DC and switching capacity up to 30 watts/50VA. The current rating must not exceed 1 Amp.
Function :
The adjustable contact arms P & Q can be set from outside individually by a knob at any required set point. The limit value switch is so designed that the instrument pointer can continue its movement beyond the set pointer, after the contact has been made.
Contact Design :
Electrical Magnetic Contacts are carfuly designed since they are subject to hard wear during use according to switching conditions because of the mechanical stress, the influence of current heat and the electric arc.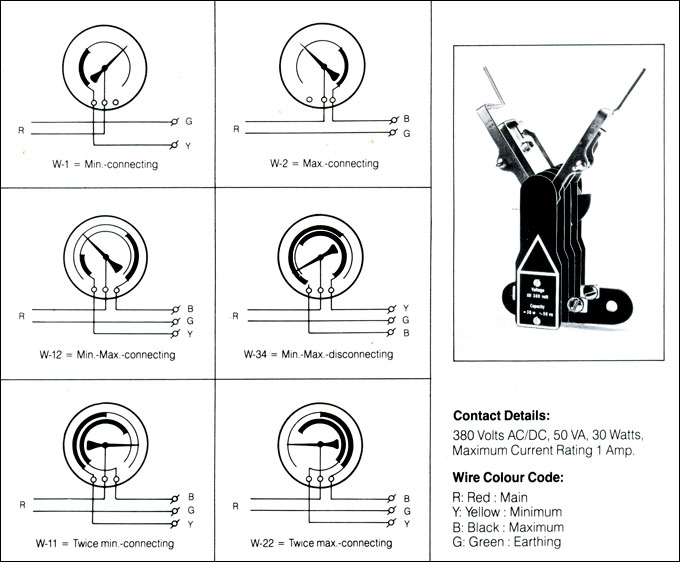 All Eletrical Contact models start with suffix " EC ", for Single Contact - " SEC " & Double Contact -" DEC ". Follow decodification sheet for details.