Bi-Metal Temperature Guages

'MASS' make Bi-metal temperature gauges have a helically wounded coil of selected materials, which are properly
heat treated and coated with a viscous silicon for long term stability, minimize pointer oscillation and improve a
temperature transmission. Bi-metal thermometers enable to measure temperature from 50°C to 500°C with an
accuracy class of 2% of full scale.

'MASS' make Bi-metal standard temperature gauges are economical, rugged, reliable temperature measuring
instruments available in different dial sizes, connection & mounting. Bi-metallic temperature gauges are also
available with different type of accessories like Electrical contact and with thermowells as per process
requirements.

'MASS' make Bi-metal temperature gauges are widely used in Pulp and Paper Industries, Food and Beverage
Industries, Machine & Apparatus Constructions, Chemicals, Petrochemicals, Fertilizers, Refineries,
Pharmaceuticals, Thermal Power Station and Refrigeration application.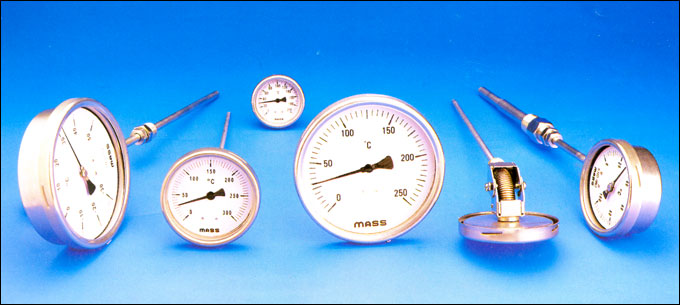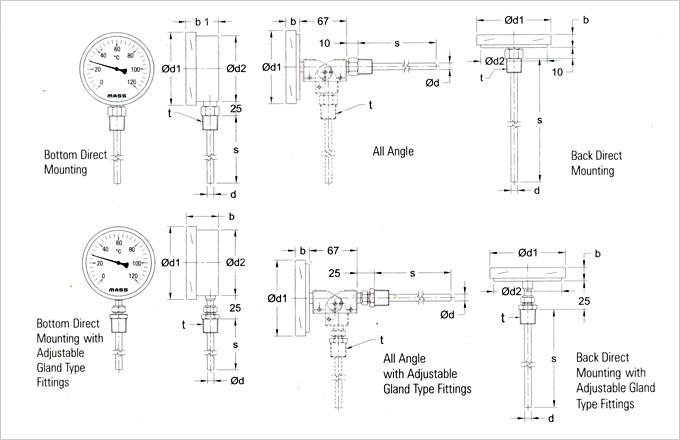 DIAL SIZE

Ød

Ød1

Ød2

b
T
S
Bottom Connection
Back Connection &
All Angle

63 mm

10

68.5

61.5

48.5

13.0

1/2" NPT or BSP

100 mm

10

109

98.5

48.5

18.0

1/2" NPT or BSP

115 mm

10

126.5

114.5

48.5

18.0

1/2" NPT or BSP

150 mm

10

166

151

48.5

18.0

1/2" NPT or BSP
Specification :
| | |
| --- | --- |
| Dial Size | 65mm, 100mm, 115mm & 150mm |
| Accuracy | + 2% of full scale |
| Temperature Element | Wounded coil of Bi-metal |
| Case | M.S. / SS 304 snap action bayonet type IP 65 |
| Stem & Bulb | ANSI SS 316/SS316L |
| Stem Length | 100mm to 1000mm |
| Stem Material | SS 316 |
| Joints | Argon arc / Gas welded |
| Pointer | Aluminum / Brass Black painted |
| Window | Plain / Toughened / Shatter proof glass |
| Process Connection | 1/2" NPT / BSP adjustable SS 316 |
| Mounting | Bottom, Back and Every angle |
| Ranges in °C | 0 - 50 to 500, -50 to 500 & other compound ranges. Range in °F & scale on request. |