Diaphragm Sealed Pressure Gauges

MASS make Diaphragm Sealed Pressure Gauges are designed to measure the corrosive fluids pressure, where suitable material for bourden tube is not available.

The Diaphragm assembly withstand various corrosive actions encountered and seals the Bourdon tube from the process fluid. The displacement of the liquid filled in the Bourdon tube, through movement of the diaphragm, transmits the process pressure to the gauge. The Diaphragm sealed connections are available with threaded type, flanged type and capillary type mountings.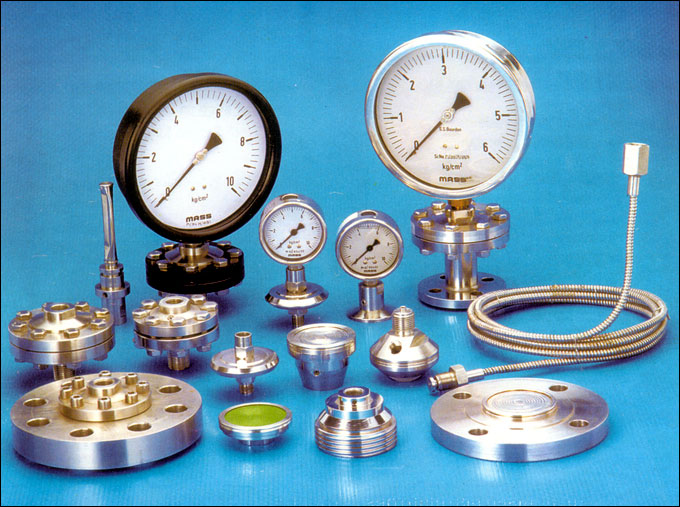 Specification :
PRESSURE GAUGE END
Dial Size
63mm, 100mm & 150mm
Accuracy
11% of thef.s.d.
Bourdon material
Phosphor bronze / AISI 316 SS
Socket
Brass/S.S. 304/S.S. 316
Movement material
Brass/S.S. 304/S.S. 316
Case & Bezel
Die Cast Aluminium Weatherproof housing, with screwed outer bezel, stoved enamel black finish. AISI 304 SS / AISI 316 SS Polished case and snap action bezel.
Extra fitments
Micro Zero Adjustment Pointer Neoprene blow out disc.
SEALED UNIT END
Upper Chamber Material
Mild steel painted in black / S.S. 304 / S.S. 316
Diaphragm Material
S.S. 316 / MONEL / HASTELOY - C / TENTALUM or any special material, if needed teflon sheating can be provided.
Lower Chamber Material
S.S. 304 / S.S. 316 / MONEL / HASTELOY - C / TENTALUM or any special material.
Connection
Threaded or flanged or flexible SS capillary can be provided.
Sealing liquid
Silicone Oil or suitable liquid as desired by the user. DC-704, 710, FS 1265, Halocarbon.
Temp. Limit
45° C to 250°C Max.
For high temp, go for cooling tower assembly - impulse tubing or capillary extension.
Different type of Chemical Seals can be provided such as :
Flange-type diaphragm seals
Cell-type (sandwich) diaphragm seals
Flange-type seals with extended diaphragm
With hygienic-type connection
- SMS standard
- Tri clamp fitting
Pulp and paper industry design
High pressure diaphragm seals, homogeniger flange
Welded body, male thread
Capsule-Type Chemical Seals
Chemical Seals Accessories can be provided such as :
Block flanges for plain pipe
Block flanges for jacketed pipe
Saddle flanges to be welded on to pipe wall
Cooling tower, Capillary extension
Flushing ring
All Diaphragm seal models start with suffix " DS ". Follow decodification sheet for detail.