Bellow Differential Pressure Gauges

The pressure element of these instruments has two S.S.316 bellows, balance mounted. The value shown on the dial is the difference between two input pressure or depressions coming in to each bellow. 'MASS' Differential Pressure Gauges are entirely made of S.S.316 wetted parts, therefore they offer the same corrosion resistance (inside and outside) as the Bourdon Pressure Gauges. Moreover the mechanical resistance of the bellows allows important one-sided overpressure, compare to the differential pressure (up to 20 times in some cases).

All differential pressure gauges are used for measurements of flow, level, filter clogging, pressure drop measurement, air conditioner & chemical processor.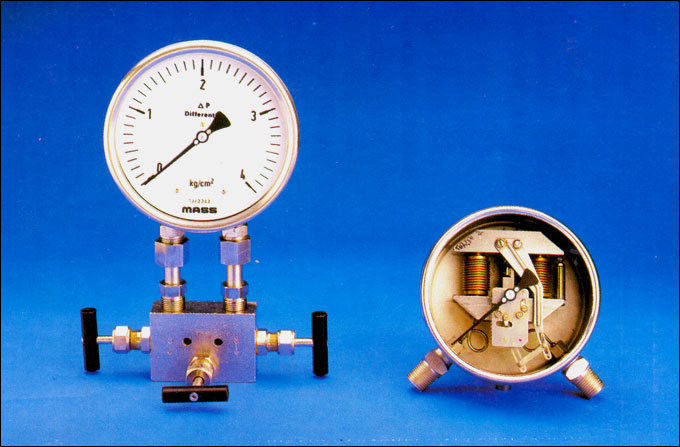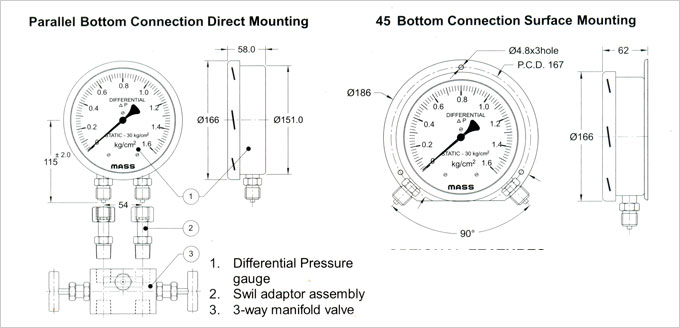 | | |
| --- | --- |
| Delta P | Maximum static |
| 60 mbar not on the full scale | 4 bar |
| 100 mbar to 200 mbar | 4 bar |
| 200 mbar to 500 mbar | 6 bar |
| 350 to 1.6 bar | 20 bar MAXIMUM |
| 1.2 to 6 bar | 40 bar |
| 6 to 12 bar | 100 bar |
Optional Features :
Adjustable micrometer pointer
Window Plexiglass or safety glass
Anti vibrations filling liquids. Glycerin or silicone oil.
Oil free manometric parts for oxygen service.
Special threaded or flanged connection.
Other dial graduations: linear, square root, flow, level, '0' at center.
Electric contacts.
Diaphragm seals of different materials.
Specification :
Dial Size
150mm
Bellows
S.S 316L Argon arc-welded
Connections
S.S 316L Arc-welded on the case, both connections are parallel in vertical direction.
45° & Back connection can be provided on request.
Connection size
1/2" BSP / Extra swil adapters for manifold connection or any standard connection can be provided on request
Case & Bezel
Stamped S.S. 304, 1 mm thick, Snap action bayonet ring ensures the perfect sealing of the case. (Weather Proof class IP-55 & 65)
Movement
All S.S. balance, welded frame, swiveling by means of flexible blades, S.S. accurate magnifying movement.
Window
Toughened glass / Safety glass
Blowout
Rubber disc
Accuracy
± 2% of full scale / ± 1.6% of full scale
Operating
temperature
-25 to 65 °C
Process fluid : max. 100 °C.
For higher temperature cooling tower assembly is required.
- For static pressure more then 10 times of pressure range, please consult us.
- Single & Double Diaphragm Differential pressure gauge are also available.